February 13th, 2011 at 8:41 pm (Electronics)
I'm delighted to report that my first soldering project is a brilliant (lit.) success. After picking up a soldering station and a coil of silver solder from Fry's yesterday, I was all set to make my attempt at replacing the bad triac that rendered my touch-lamp useless. I'd previously desoldered the bad triac and removed it, so all I needed to do tonight was solder the new one in.
Or rather, all I needed to do was solder it in, correctly the first time. Fry's was woefully lacking in desoldering equipment so I had no way to properly undo and cleanup any mistakes I might make. Also, Fry's didn't have any helping hands, so I had to find a creative way to hold the circuit board fixed while I wielded the soldering iron in one hand and the solder in the other. It turns out that two pencils, a rubber band, and a weight were sufficient.
Here is the circuit board before I began soldering: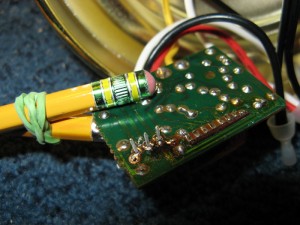 And here is the result:
Critique: To my completely inexperienced eyes, I think I might have used a bit too much solder. It was a little tricky to get my soldering iron's "screwdriver" tip positioned to heat precisely one of those posts at a time; a smaller tip would have been easier, I think. Also, by all reports a good solder job should leave you with very shiny clean connections — but these dulled when they cooled so I'm not sure if there were impurities or I didn't keep it hot enough or some other issue. So it was with great apprehension that I plugged the lamp in, but voila!
You can't tell from this static image, but it DOES work, flipping between off-low-medium-high brightness when you touch any metal part of the lamp. Yowza!
Here's the other side of the circuit board, with the new triac clearly visible (and correctly oriented, or the lamp wouldn't have worked):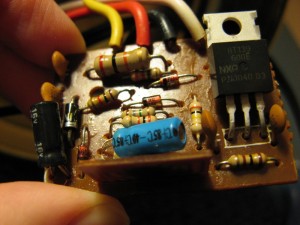 I know that you generally clip the wire ends of components after soldering them in, but the triac's ends were pretty thick so I just left them there. To anyone with more experience, would you clip these as you would resistor wires?
Replacement triac: $1.19
Soldering station: $39.99
Silver solder package: $3.99
Sweet, sweet success at something I've never done before: Priceless