April 4th, 2017 at 12:18 pm (Books, Psychology, Reflection)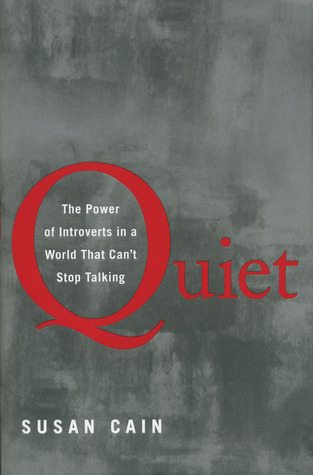 I just finished reading "Quiet: The Power of Introverts in a World That Can't Stop Talking," which makes me want to talk!
Cain's book is a fascinating account of the latest research on introverts and extroverts. It pulls together ideas from antiquity up through today about what distinguishes these basic personality types, how they form (nature vs. nurture?), and what their strengths and weaknesses are. Cain's tone throughout is a bit defensive or apologetic (hence the title's emphasis on the "power" of introverts) due to our cultural bias in favor of extroversion – but both sides are discussed. Introverts will find advice herein about how to connect, communicate, and thrive (and know yourself better).
The main message I got (which fits my own life experience) was that introversion is likely an inborn trait (not an environmentally imposed one), but we can (and do) adapt to situations as needed, including performing as extroverts if it's in pursuit of a goal that we highly value.
One aspect of introversion that was new to me is that introverts tend to be more sensitive to the thoughts and actions of others. I am reminded of how I would anthropomorphize everything as a kid, including feeling sorry when I stepped on rocks in case it "hurt" them. Here I'd thought that everyone did that :) And it's true that I find it nearly impossible to rest if I think I've inconvenienced, hurt, or annoyed someone. I feel compelled to address and resolve it.
I was also surprised to read that "at the university level, introversion predicts academic performance better than cognitive ability" and that "introverts receive disproportionate numbers of graduate degrees." Cain does not argue that introverts are smarter than extroverts (in fact, she points out that IQ tests show no difference), but that they are more focused, invested, and studious – traits that are rewarded in academia. In contrast, extroverts are better at "handling information overload," perhaps because introverts are devoting "cognitive capacity" to reflecting on experiences as they are happening. I can identify with that!
But the part that really hit me hard was the discussion of being "reward-oriented" versus "threat-oriented" (one way of thinking about extroverts and introverts). Reading through this characterization, I realized that this theory captures my own behaviors remarkably well. And I went through a short existential crisis, because this is not how I have ever viewed myself consciously, and it felt like a disappointment. While there are up sides to being cautious and conscientious and thorough, it seems … less impressive, somehow, than being a risk-taker and go-getter and achiever. I'm not sure that I want to think of myself as motivated by fears.
An industrious individual converted Cain's short 10-question quiz into an online quiz, so if you don't have access to the book, you can still determine where you fall on the reward-threat spectrum.
Cain shares the results of studies on how well people think and work in solo situations versus group settings, with important implications for your own productivity and for the workplace. She makes some powerful points about the need for both introverts and extroverts for balanced decision making (e.g., in financial markets, but everywhere else, too).
There are also chapters devoted to the teaching or parenting of introverts. I found these less compelling or insightful. The main message is about awareness of diversity in personalities and strengths. As an introvert myself, I find the recommended strategies to be overly meddlesome, but it's always possible that others would find them beneficial.
Overall, this was a thought-provoking read that yielded some new insights about myself and my behavior. I wrote extensively in the margins and will likely come back to browse and review over time.