November 4th, 2019 at 8:49 pm (Animals, Biology)
I was raking up a ton of leaves that had fallen in my yard when I discovered a little ball of brown and black amongst the leaves. I repositioned him in a tree and took a picture: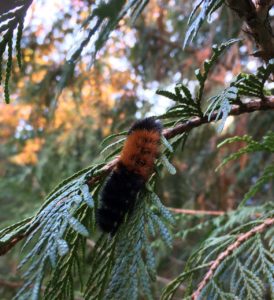 I did some sleuthing and found that this is a wooly bear caterpillar (they roll into a ball when disturbed). They transform into the beautiful Isabella tiger moth.
I marvel anew at how different these forms can be. And then there's this amazing part of its lifecycle:
The banded woolly bear larva emerges from the egg in the fall and overwinters in its caterpillar form, when it literally freezes solid. First its heart stops beating, then its gut freezes, then its blood, followed by the rest of the body. It survives being frozen by producing a cryoprotectant in its tissues. In the spring it thaws. (Wikipedia)
Wow! I'll have to look for this guy again in the spring. I hope he makes it :) (But maybe he'll be a moth by then!)