October 14th, 2018 at 12:43 pm (Technology)
Yesterday, it actually rained! So I got to use the long-neglected windshield wipers on my Chevy Volt. They have options that include OFF, INT (intermittent), LO, and HI:
"Intermittent" is the tricky one. There are five options shown by the horizontal white bars. Do they indicate how frequently the wipes happen? Or do they indicate the delay between wipes? Effectively, in which direction does the scale increase? I can never remember this, so every time I end up trying out different settings to re-learn how to use my wipers. In this case, a bigger white bar (bottom) means more frequent wipes, which is the reverse of the order implied by "HI" being on top.
And what's up with the exponential growth implied by the white bars? Is that real?
As Francis Bacon might have said, "When in doubt, collect data."
I timed the delay between wipes for each of the five settings. And here's what I found: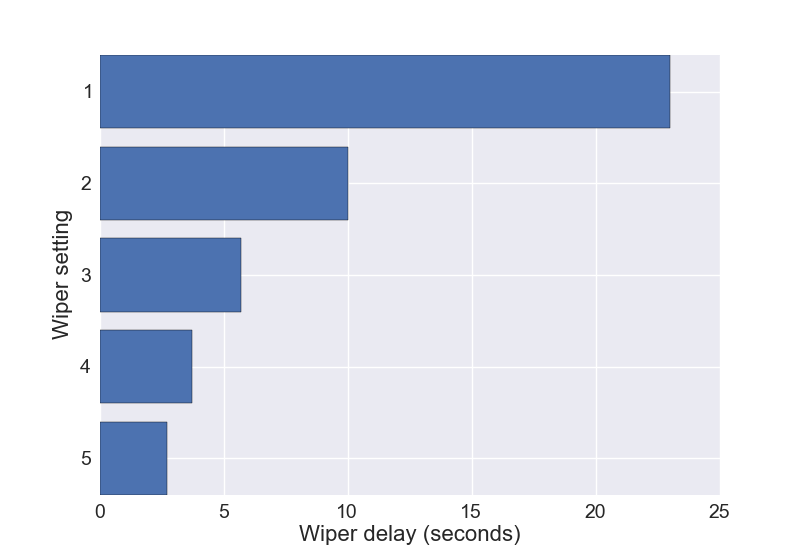 If we invert this to report wiping frequency in number of wipes per minute:
So, nope, the labels on the control do not reflect actual frequency. I've been reading Edward Tufte's book titled The Visual Display of Quantitative Information, and this would be a perfect example of what he calls graphics without integrity. One of his principles:
"The representation of numbers should be directly proportional to the numerical quantities represented."
Boo, Chevrolet designers! And especially for inverting the order with respect to the "LO" and "HI" markings.