April 19th, 2015 at 12:43 pm (Art, Engineering)
Yesterday I volunteered with Kids Building Things to offer a Tool Petting Zoo. This is a chance for kids (and their parents) to see, touch, and use tools of all kinds — screwdrivers, bubble level, wire cutters, hammers, saw, a drill press, and more.
Even better, I got to learn some new tools myself! I got to use a pipe cutter, which looks like this:

You put the pipe inside its jaws and then spin the screw until it grips the pipe. Then you rotate the cutter around the pipe, tightening the screw whenever it feels slack, until it slices through the pipe. Magic!
I then got to use a pipe bender:

This picture shows a pipe after it's been bent with the tool. It requires very little effort. You put the flat pipe through the device. Then, as you squeeze the handles together, the pipe bends in a nice curve, supported by the metal disk, which dictates the radius of curvature. You stop squeezing when you have as much curve as you want. This is great fun!
Finally, I learned to use a rivet puller:

You line up the holes in whatever pieces you want to attach, then put a rivet through it and squeeze the handle. This pulls the bottom of the rivet up, fattening it out on the reverse side, and eventually it can pull no further, the top snaps off, and you're left with a beautiful rivet.
The kids were encouraged to make a sculpture, or whatever they wanted, with the tools. I made a mini Loch Ness monster: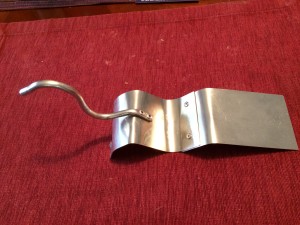 Check out my cool rivets and bent pipe!