June 13th, 2011 at 4:25 pm (Cooking, Travel)
On May 7, I headed down to Union Station to celebrate National Train Day. I rode the Gold Line Metro to Union Station, delighted not to have to tackle parking in downtown Los Angeles. I arrived just as the event started, in time to trail along behind a contingent of the USC Marching Band (!) that was proceeding with much fanfare through the station.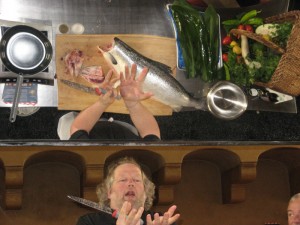 The festivities included a variety of fun sights and experiences. There was a large model train setup with three trains running at the same time, weaving their ways through miniature trees and houses. There were tons of booths giving out railroad safety stickers, brochures about how to get to San Diego (and many other places) on the train, and information on the railroad workers' union. A particular highlight was a cooking demonstration by renowned chef Tom Douglas, who owns five restaurants in Seattle and has crafted recipes for Amtrak's trains. He showed how to make a grilled salmon + cucumber salad dish using the kind of stove available on the train — and then everyone in the audience (100+ people) got to try it. It was fascinating to see a top chef fillet a 15-pound salmon up close! (See picture at left of Chef Douglas, with an angled mirror above him so you could watch him work.)
There were brochures and information of every stripe, except one. I asked around a few places for information on Amtrak's USA Rail Pass. I'd read some information about it online, but I was sure at this event, of all places, there'd be more to learn. But I came up totally empty-handed. You could learn how to get to Fillmore, to shows in Anaheim, and even to the Grand Canyon, but no information on the 6-month rail pass. The best I could get was a suggestion to call an 800 number. Amtrak, what a huge missed opportunity! (Or do you not want people to take advantage of the rail pass for some reason?)
As time went on, the number of people at the event ballooned. Apparently this was THE place to be on a Saturday afternoon with your kids. I was glad I'd arrived when I did, since an hour later there was an hour-long wait just to walk past the booths with brochures and stickers. However, because I'd saved the "Train Equipment Tour" for last, I ended up not getting to see what it was all about — the line stretched almost all the way through the station, with waits even for people who'd requested timed tickets (I didn't know you could do that :) ). So, perhaps another time!
In related news, I later got to visit Travel Town, a local railroad museum. It's a yard full of old engines and cars, most of which you (sadly) cannot climb on or walk through. Some few are open for curious eyes and hands, though. It's also fun just to walk around and work out how the wheels and brakes and other pieces on the outside must function. You can even rent out a rail car for birthday parties. I admit, I was tempted! It turns out that Travel Town, like so many other organizations, makes good use of volunteers; you can even volunteer to learn how to LAY TRACK! Oh, for more hours in the day.
I also recently watched "Unstoppable", a movie about a runaway (uncrewed) train that is a dramatization of real events. It's exciting and action-y and definitely a dramatization; but interestingly, the main setup and events really did happen. It is an awe-inspiring thing, to see a behemoth of mechanical energy loosed from human control and rampaging blindly through the countryside. How, how to stop it? Watch the movie and find out!